"This bootcamp is the best choice I've made in yonks"
So, you want to be a Google Ads expert, huh? Well, I have some bad news for you…
Google Ads suck
Maybe you've experienced it already?
All the acronyms. SEO, SEM, CPC, PPC, TOFU, MOFU, BOFU, WOTFU (ok, I might have made that last one up)

All the jargon. Remarketing, triggers and attributions (oh my!)

All the bits that could go wrong. Like finding the best keywords, investing in the right campaign type and testing and optimising your account.
Yep, running Google Ads is hecking confusing
BUT…
If you're a digital marketer, Google Ads is a seriously in demand skillset. And understanding the basics of Search Engine Marketing and how Google Ads fits into an overall marketing strategy is a non-negotiable.
If you're a business owner, knowing whether Google Ads is the right marketing strategy for you (and how to implement it the right way) could be the key to unlocking untapped revenue potential.
Because when Google Ads are done right, the results can be astronomical
Customers are using Google Ads to find what they need right now (more than half (66%) of people who buy online use Google Ads).
Google Ads are more effective than any other online advertising (people are four times more likely to click ads on Google (63%) than ads on any other network).
The potential ROI is bonkers (businesses make an average of $2 in revenue for every $1 they spend on Google Ads).
Google Ads isn't going anywhere (Google generates 97% of its revenue from Google Ads alone).
Google Ads generated over $25 million in revenue for my 1:1 clients in 2021 alone.
Meanwhile, the participants in my big Google Ads course Profitable Promotion have achieved increased traffic, increased sales and increased profits in their accounts.
AND created new services that have meant they are now seriously in demand experts within the competitive marketing industry.
Ready for the good news?
We're here to take the sucky bits out of learning Google Ads
Even if you hate numbers, you're terrible at tech and you get a headache just thinking about opening an account.
We're here to break down everything you need to know to get started with Google Ads into simple, easy-to-understand, bite-sized steps that just about anyone can follow.
GOOGLE ADS BOOTCAMP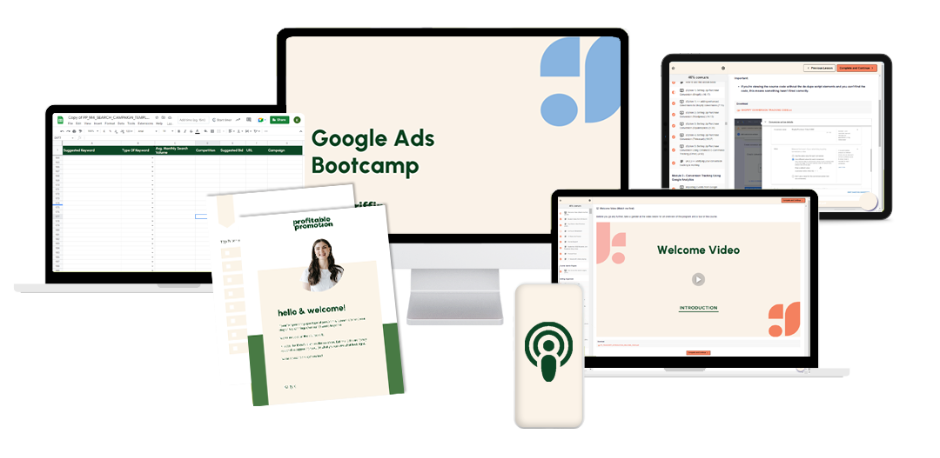 The mini course to put you on the path to using Google Ads the right way.
So you can add Google Ads expert to your list of credentials and make predictable profits for your clients (or your own business).
Inside the Google Ads Bootcamp you'll learn:
The core concepts of Google Ads (you'll be confidently using all the acronyms and jargon in no time)

How to avoid money-sucking mistakes (the ones most beginners make when they're starting out with Google Ads)

Tricks for knocking your keyword research out of the park (so you can reach the right audience, right away)

How to work out whether Google Ads is the right marketing move for your clients' businesses (or your own).
WHAT'S INSIDE
In this Google Ads Bootcamp we break down complex concepts in a way that's engaging and super easy-to-understand.
Designed to fit perfectly around your busy life, it includes bite-sized videos (the longest is under 18 minutes) that can be listened to in Podcast form.
Perfect for walks, car rides or folding the never ending pile of laundry!
PLUS it includes value-packed downloadable cheat sheets and resources you can start using straight away—woohoo!
Getting to Know Google Ads
Dig a bit deeper into basic concepts, with:
The differences between SEO and SEM (and how they impact one another)

How Google Ads are triggered

The main Google Ad campaign types and how they work

An overview of Google Ad policies

Tips for structuring your account for success

Google Merchant Centre

Keyword match types (plus a cheat sheet to keep it super simple)
Client Access Training Videos
If you're looking to offer Google Ads as a service, understanding how to get organised from a client management perspective is KEY. This bonus module contains a bunch of training videos with the exact instructions we use to get access to client accounts, including sample emails and helpful PDFs.
"I've really loved the bootcamp…"
I've really loved the bootcamp – I love the practical application and it was broken down into manageable steps. I feel a lot better about my account setup and I'm on the right track. Thank you!
AMANDA HERRIOTT WELLIVER​
"Made Google Ads less confusing and scary."
Thanks so much for sharing your absolute wealth of quality information and making Google Adwords less confusing and scary, it's greatly appreciated!
CAMILLE SCOTT
I'm Kaity and I'm damn good at Google Ads.
I've worked with A-lister clients like Snuggle Hunny Kids, Showpo and Kettle & Fire, helping them achieve serious ROI from their marketing spend.
AND I've taught business owners and marketers how to profitably use Google Ads and kiss overwhelm and tech-overload goodbye.
Best of all? I have a knack of breaking down confusing concepts (like Google Ads) and letting my students in on the trade secrets I use with 7 figure clients in a totally accessible way.
Interested in ads? You're gonna love it here!
I'm not about wasting your time
If you can't tell from the module breakdown above, I've jam packed a whooole lot of value into this Bootcamp.
BUT… you can't learn everything you need to know about Google Ads in a minicourse.
Not even one that's this good.
So if you're sure you're ready to give Google Ads a red hot go you can jump straight over to my bigger, beastier, more comprehensive (and more hands-on) course Profitable Promotion.
But here's the thing, I don't want you investing in a 12-week course if it isn't the right move for you or it's not going to get real results.
So if you're on the fence about Google Ads—or you want to check out my teaching style first—then this Bootcamp will help you make the right call about your next best steps.
WHILE ALSO giving you the foundational knowledge to get your account up to scratch, make quick wins and avoid time- and money-sucking mistakes. Sounds good right?
"Broken down into bite sized chunks"
Kaity's Google Ads course was fantastic – really well put together and easy to understand. There is a lot of tech stuff that can easily become overwhelming, however, she really breaks it down into bite-sized chunks, which are easy to work through.
STAN ZASLAVSKY​
"Definitely worth every penny I have spent"
I'm in the digital marketing field and this course was a great refresher and addition to my skills. I'm more confident than ever with Google Ads. Definitely worth every penny I have spent.
JOANNE – DIGITAL MARKETER
Freelance and inhouse marketers, copywriters, social media managers, business coaches and other online-biz-building legends
Google Ads can help you attract better clients, deliver better services and achieve better ROI for the accounts that you manage.
Legitimately GOOD Google Ads experts are hard to find
Unlike other paid marketing platforms (*cough* Facebook ads *cough*) this is some advanced tech!
Which means knowledge of even the basics of how an account works is an impressive notch in your marketing belt.
Learning about Google Ads is perfect for you if…
… You want to charge more for your expertise or negotiate a pay rise at your in-house gig.
… You're sick of losing potential clients to marketing agencies that claim to "do-it-all".
… You're looking for new ways to get results for your current clients who already LOVE working with you (less time on lead gen and client management sounds pretty good, right?).
If you're toying with the idea of upskilling in Google Ads so you can offer it as a service and diversify your revenue stream you're in the right place.
Bootcamp is the perfect way to get started on your journey to becoming a Google Ads expert and give you a taste of what you're in for.
Loads of our students fall completely head over heels in love with Google Ads.
But even if this doesn't happen for you—and Google Ads isn't a service you end up offering to your clients—Bootcamp will still beautifully round out your marketing knowledge.
So you can be sure you're giving the very best advice to your clients about whether adding Google Ads to their marketing mix is a smart move for them.
Business Owners YES, Bootcamp is for you too!
Sure you could save your time (and bypass the sucky bits) by outsourcing Google Ads to someone who already knows what they're doing.
But working with a Google Ads expert can be expensive. And if the cost seems too good to be true, well, it probably is.
Google Ads Bootcamp will help you decide whether hiring an expert will give you bang for your buck AND give you the foundations to understand WHAT they're doing and WHY.
So you can advocate for your business and get the best possible results.
(AKA the stuff we haven't covered yet)